Course Update
Craig's Course Update
---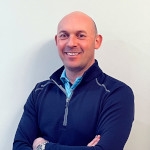 Stuart Smith
Head PGA Professional Ranfurly Castle Golf Club
On the course at Ranfurly Castle this week...............
Springtime gives a chance for the course to recover from the difficult winter months, higher temperatures and longer daylight hours should waken the grass plant up into some sustained growth, however, the good old West of Scotland weather doesn't see it that way. After receiving 100mm rainfall over 4 days at the tail end of March, we have now experienced 20 days where we have only recorded 2mm along with 16 mornings of frosty conditions. These conditions are hindering growth on several areas around the golf course. Hopefully, over the next couple weeks, we will start to see a rise in temperatures giving us more growth, recovery and some well-needed definition around the golf course.
We have applied our first monthly wetting agent application to greens and due to very little rain, this was hand watered in.
Wetting agents act as penetrants, breaking the surface tension and allowing soil moisture to flow through the soil profile. They are primarily used in turfgrass management to manage localised dry spot (Dry Patch), which is often caused by hydrophobicity, or water repellency, which is the result of organic coatings on soil particles. Organic coatings on soil particles can lead to several problems, including lack of available water to plant roots, uneven water flow through the soil and increased susceptibility to abiotic and biotic stresses such as wear stress.
The symptoms of Dry Patch are patches of brown, dying grass amongst a healthy golf green. The patches will be completely dry even after heavy rainfall and may smell musty.
In addition to alleviating localised Dry Patch, wetting agents can also improve various other issues in water relations in soils. In many cases, soil water content may not be adequate or may exceed turfgrass requirements. For instance, water deficiencies or excess may occur because of the amount of precipitation. Wetting agents will help alleviate these problems.
Due to no rain forecasted for the next 10 days, we will continue to monitor moisture levels with the soils and irrigate appropriately.
We have also made a start on spraying our fairways with a mixture of Ferrous Sulphate and Ammonium Sulphate (Iron and Nitrogen). This will help encourage growth and give us better colour. Due to the amount of moss that flourished over the winter which is affecting some playing areas, we plan to lightly rake/scarify the fairways to remove moss and surface thatch which will help encourage more finer grasses to flourish.
Once the fairways are complete, we will spray the majority of the rough, again to discourage moss and give us some colour throughout the course.
Over the 7-10 days we will be concentrating on edging, weeding and toping up paths with fresh whin dust on top of course set up and general maintenance.
Tee caddies have been placed at each tee for broken tee pegs to placed. Please note that these are NOT bins so please refrain from using them for anything except tee pegs. Over the next week, we will be putting a total of 9 bins back out onto the course. Please, please help my team out and respect your golf club by keeping your rubbish in your bag until you see a bin to use. In the meantime please be kind enough to take your rubbish home with you.
As we go round setting up the course in the morning it is still evident that pitchmarks remain a big concern going into the start of the season, so please remember to repair your own pitch mark and any others that you see on the green. We are privileged to have some of the best putting surfaces in the area so let's retain that for ultimately, your playing pleasure.
Enjoy your golf.
Craig